AES-IPL S308 with 3 hand pieces!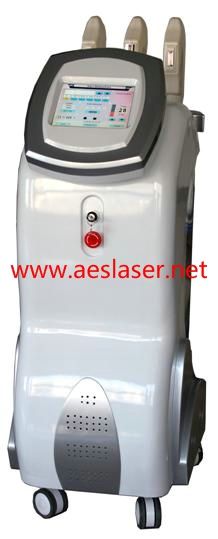 World biggest Spot Size
16 * 57 mm for Hair Removal!
Principle of AES IPL treatment: 
IPL (Intense Pulse Light) is a kind of high strength, broad spectrum and non-succession light, which can permeate epidermis to the derma. Utilizing the selective absorption elements, the light is absorbed by the melanin in the hair follicles. Through the optical and thermal effect generated and sourced from the light, it achieves the purpose of removing unexpected hair by destroying the hair follicles tissues rapidly and permanently. 
IPL can permeate the epidermis to the derma and take effect on the exceptional pigment and vessel such target tissue to break the abnormal pigment cells, close the abnormal blood vessels, stimulate the proliferation of collagen and improve the rearrangement of elastic fiber, finally achieving the purpose of pigment removal and skin rejuvenation.
Scope of treatment:
1. Permanently remove unwanted hair on all parts of the body and for hair colors
2. Remove vascular lesions on face and bottlenose
3. Remove the wrinkles and shrink the skin pores
4. Lighten and remove all kinds of pigmented lesions e.g. speckles, age-spot, sun-induced spots
5. Lighten and remove acne
6. Remove skin flaws and improve the skin quality;
7. Skin-rejuvenation, skin-whitening and enhancement of skin elasticity
Treatment Hand Pieces available
| | | |
| --- | --- | --- |
| Hannpiece                  | Wavelength           | Function                      |
| HR:Hair Removal | 690-1200nm | For permanently hair removal                 |
| SR:Skin Rejuvenation | 560-1200nm |  Reduce and remove pigmented lesions e.g. freckles, age spots, sunburn spots; reduce wrinkles; shrink pores,rejuvenate skin and enhance skin sticity                                                        |
| VR:Vascular Removal | 420-1200nm |  Remove vascular lesions on face and bottlenose,Lighten and remove acne |
Feature and advantage:
1.Simple operation and maintenance:
Three hand pieces (SR, HR, VR) on the unit, which makes operators can change hand pieces easily for different treatments. LCD user-friendly screen makes operation simple, block inside design makes installation and repair quite easy. 
2.Safe and comfortable treatment:
Semi-conductor cooling system would make the temperature of hand piece crystal get at -4 Cent degree during 3-5 minutes after turning it on, which ensures IPL treatment safe and comfortable.
3. Effective and lasting result: 
Precise energy-control system makes IPL treatment effective and lasting result of hair-removal, skin-rejuvenation, pigmented lesions and vascular lesions
Specifications:
Wavelength                     

HR:690nm,SR:560nm,VR:420nm                                  

Discharge time

1-3s

First pulse width

0.1-15.0ms

Sub-pulse width

0.1-15.0ms

Energy density

20-50J/cm2

Simmer time

10-990ms

Supply power mode

AC220V,50HZ  AV110V,60HZ

Spot size

HR:16mmX57mm  SR/VR:8mmX34mm

Cooling system

Water, Air, Semi-conductor cooling

Power

2000W

Security standard

Max10A

Cooling Temperature

-22

℃

~0

℃

Net weight

50 Kg

Gross weight

75 Kg