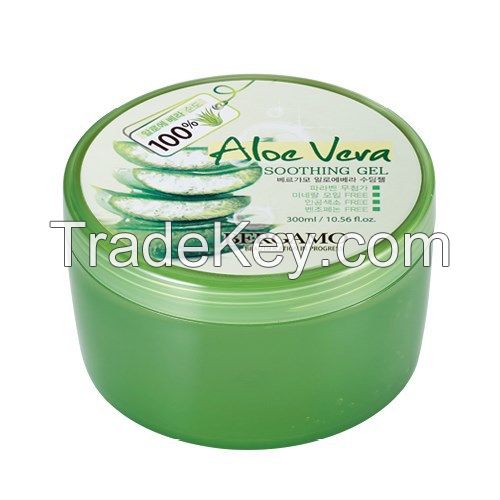 ~Specifications
- Aloe Vera Soothing Gel
- Volume : 300g
- Wrinkle care, Moisturizing, Skin care
- 100% Aloe Extract included
- 100% Natural

 
~
Product Description

 BERGAMO ALOE VERA SOOTHING GEL 100%
Bergamo Aloe Vera Soothing Gel 100% contains abundant 100% aloe vera. Mild formula free from paraben, mineral oil and artificial colors. This soothing gel with 100% organic aloe vera certified by California Certified Organic Farmers (CCOF) can be used to mildly moisturize various parts of the body such as the face, arms, legs and hair.
How to use it
 Apply an appropriate amount to dry, sensitive parts of the face and body often for the best result.
Ingredients
 Aloe Barbadensis Leaf Extract, Calendula Officinalis Flower Extract, Spearmint Extract, Melissa Officinalis Extract
Suitable for
 all skin type

Packaging & Shipping
  Quantity/Carton : 30 pcs
  Weight :  kg / CBM : 0.020
  Lead Time : 20~30 day
  Price : FOB condition ( but, negotiable )
  Port : Incheon / Busan

Our Services
 - Supporting Marketing Source
 - OEM / ODM / OBM production avaliable
 - Suitable advise for the market
 - Providing reasonable price
 - Supporting Custom Clearance, Documents, Certificate, etc

Company Information

  We, LK Cosmetics Co., LTD, have been established by the motto 'The reason for the existence of cosmetics is for beautiful skin' since 2006.
To achieve our motto, we believe that suitable skin care and ingredients research & development of proper effect for skin are primary value of cosmetics. That is a reason why we have developed more than 15 brand lines with different each concepts. So, we are confident about skin care product quality. Plus, we can offer the reasonable price to customer. In cosmetics market, there is a lot of bubble price with complex distribution channels and expensive advertisement. We, however, are striving for win-win management between corporation through developing new product, finding new distribution channel, effective marketing, and so on. That is a reason why we can offer the competitive price to customer with high quality product. In addition, customer tend to be interested of new cosmetics trend. So, we are trying hard to catch up the cosmetics trend, and developing our products to satisfy customers needs.
In conclusion, through all parts of value innovation to improve life quality of customer, we will try continually for ultimate customer satisfaction. Now, we knock the global market, and we have had good business relationship with 10 different countries distributors so far. However, we aim to extend for more bigger global market in five years.