Drill type :

Soil/sand/rock
详情
Hydraulic Crawler Drill Rig-90 
Application: 
Hydraulic Crawler Drill Rig is mainly used for anti-floating anchor, railway, highway, water conservancy and hydropower project . 
construction and anchoring anchoring holes, drainage holes, grouting hole construction, and also used the blasting holes and tunnel roof support hole construction. 
Feature: 
Compact and modular design, easy to disassemble; mechanical parts to consider the whole counterweight design of high strength; fully hydraulic control, easy to operate. 
It uses low speed high torque motor to  achieve stable and reliable performance.Long lifetime. 
A wide range of drilling ability; long stroke moving sub-head, high drilling efficiency. 
Moving sub-head and rail connected with new wear plates, to decrease wearing. 
Drill angle ranges from 0 to 360 degrees. Crawler, arm lift, front and rear track inclination orbit around the deflection and vice track down versatile design makes the drill positioning convenient and reliable. 
Drill rig suitable for various drilling process. 
Parameter: 
1.  Hole Diameter: 150-260 
2.  Bore Depth(m): 50-120 
3.  Rod Size(mm): 89/114*(1500-3000) 
4.Angle(0): 0-360 
5.Climbility(0): 200 
6.Slewing Speed (rpm): 40;80 
7.Max. Slewing Torque (N.m): 6000 
8. Max. Travelling Distance(mm): 3500 
9. Vice-track Travelling Distance(mm): 900 
10. Max Lifting Load(KN): 60 
11.Max Feed Force(KN): 45 
12. Working Pressure(Mpa): 16 
13.Engine Type: Y200L-4 
Engine Power(kw): 30 KW 
14.Weight(kg): 8300Kg 
15.Outter Size(L*W*H): 5500*2120*2500 
Hydraulic Crawler Drill Rig, water well drill rig, Hydraulic Anchoring drill, Grouting rig, Rock core drilling machine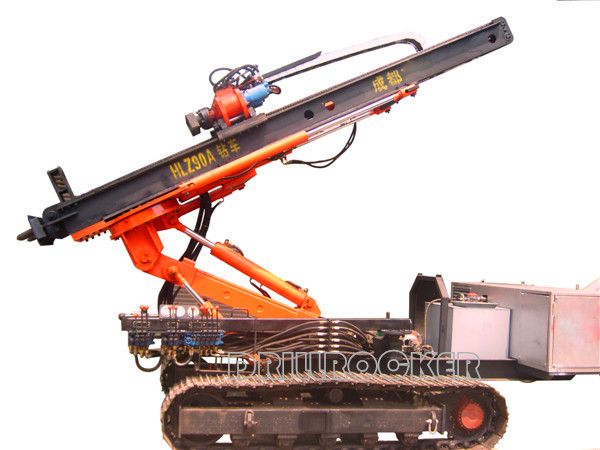 Get Verified Buyers & Suppliers
Avail Free Consultation