A Vacuum Insulation Panel (VIP) is a form of thermal insulation consisting of a nearly gas-tight enclosure surrounding a rigid core, from which the air has been evacuated. It is used in building construction to provide better insulation performance than conventional insulation materials,
the thermal conductivity of Supertech VIP can be greatly reduced which is less than 0.0022w/m.K.
Vacuum Insulation Panel(VIP) consist of:
Membrane walls, used to prevent air from entering the panel.
A panel of a rigid, highly-porous material, such as fumed silica, aerogel, perlite or glass fiber, to support the membrane walls against atmospheric pressure once the air is evacuated.
Chemicals (known as getters) to collect gases leaked through the membrane or offgassed from the membrane materials. These are added to VIPs with glass-fiber or foam cores, because cores with bigger pore size require a higher vacuum (less than about 1 mbar) during the planned service life.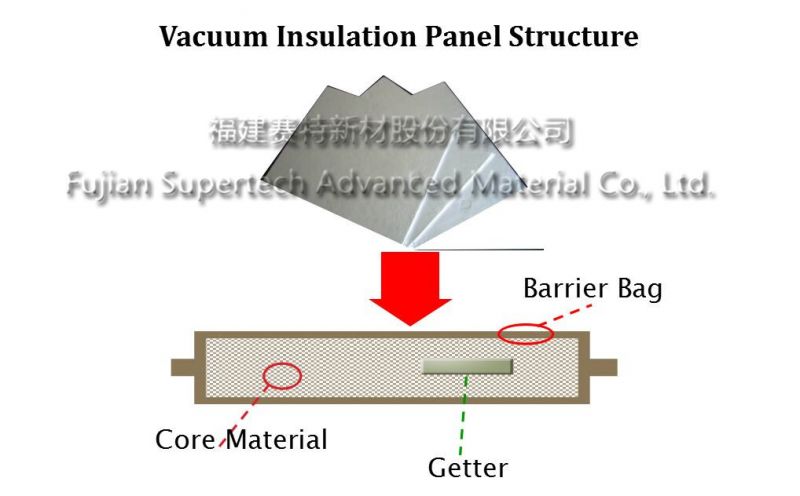 Supertech Vacuum Insulation Panel takes highly refined fiber glass as the core material, the lacunose and reticular structure will effectively increase the thermal resistance. Moreover, by using the vacuum pumping technique to make sure the vacuum degree inside the VIP always keeps at a certain low level which would maximally reduce the heat transferring between the gas molecules therefore meets the insulation requirements.

Some specific figures about 
Vacuum Insulation Panel (VIP):
| | |
| --- | --- |
| Maximum Size | 1800mm(Length)*800mm (Width) |
| Thickness Range | 5mm-35mm |
| Diameter of fiberglass | 6~11 micron (Which conform to the European regulations) |
| Size tolerance | Length:±5mm, Width:±5mm, Thickness:±1-1.5mm |
| Life time | 10-15 years  |
| Core Material | Highly refined micro-fiberglass |
| Thermal Conductivity | (EXW)Lower than 0.0022w/m.k as upper (Ambient temperature 24ƒ, relative humidity50%, R more than 36/inch) |
| Density | About 240-300kg/m3 |
| Internal Vacuum | Lower than 1Pa |
| Maximum Compressive Strength | 200kPa |
| Operating Temperature | -70ƒ ~ 80ƒ (Maximum 120ƒ, less than 15min) |
Vacuum Insulation Panel can be widely use in refrigerator, electric hot water bottle, water heater, vending machine, medical refrigerator, cold insulated box and wherever you need efficient thermal insulations.

The main advantages of Vacuum Insulation Panel (VIP)
VIP is vacuum based insulation known for its high thermal conductivity. It is ideal for the transport of heat sensitive products in extreme conditions (prolonged periods, intense heat, etc.).Supertech VIP advantages: 
Performance: Its thermal conductivity of about 0.0022W/m.K makes VIP more efficient than other insulating materials, even if performances are reduced by thermal bridges.
Temperature maintenance time: It offers 7 to 10 days of storage within the required temperature range. This duration is 2 to 3 times more than what can be achieved using the best classic insulation. VIP caters for needs in excess of 5 days, which are not guaranteed by other insulation materials.
Thickness: The use of VIP can reduce the thickness of the sides, and therefore the volume of the box, or the weight of the cold source used.
Our target is to become the best insulation material supplier by the way of meeting customers satisfaction, with superior quality, competitive prices and reliable services,each panel must been tested before packing and shipment, our professional quality can be trust worthy.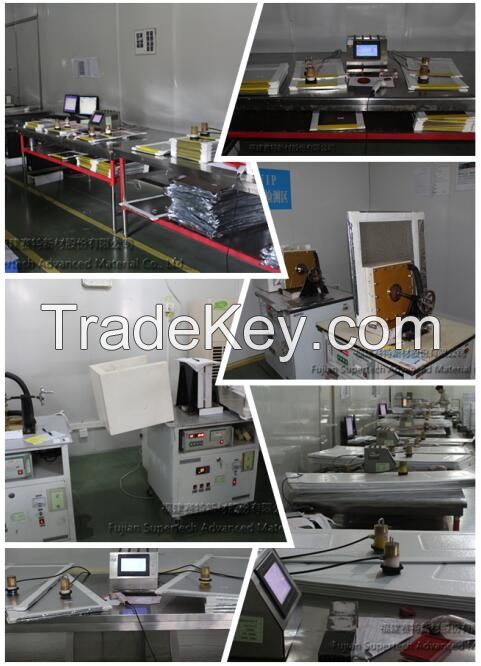 Certifications for Supertech including ISO-9001, ISO-14001, SGS, RoHS, Reach etc.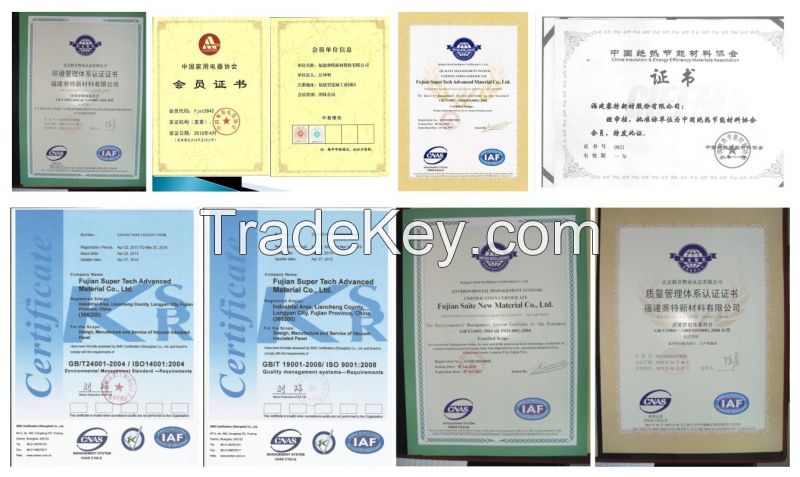 Vacuum Insulation Panels with low thermal conductivity can offer reduced power consumption for refrigeration. For applications at cryogenic temperatures the advantages are even more pronounced. You're very welcomed to send your inquiries at anytime!