产品规格
Type :

-
Training Products Type :

-
Application :

-
Feature :

-
Brand Name :

-
详情
Of all the dog treats and chews out there, every pooch has their favorite. Sometimes it can be quite hard to find the right snack for your dog, especially for the most health-conscious pet parents. Antler dog chews provide a great solution for doggies who like to chew and dog parents who dont want to worry about the ingredients of their dogs treat.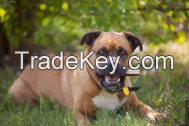 Deer antlers are an all-natural, long lasting chew toys your dog will love. Antlers chews are odor-free, will not splinter and will help keep your dog busy and out of trouble keeping his teeth clean. After all, chewing helps reduce plaque and tartar buildup, and it also redirects destructive tendencies and anxiety into an acceptable outlet. For owners of powerful chewers that destroy conventional chew toys in a manner of minutes, antlers seem like a gift from nature herself.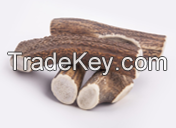 Long-lasting!

: Antler chews last much longer than bully sticks or chews made of compacted starch or rawhide, saving you money on chew toys for powerful chewers.

Safe chewing

!: Whole deer antlers for dogs are much less likely to chip or splinter than processed bones as the chewing grinds the antler chew down slowly.

Healthy!

: Chew antlers contain many beneficial nutrients and minerals, very rich in calcium. All natural, no artificial ingredients.

Theyre literally just antlers. They help promote healthy jaws and gums, while curbing your pets chewing urges.

Odor and stain-free!:

 Antlers have virtually no odor or residue that can get on your carpet, sofa or furniture.

Variety!

: Antler chews vary in shape, thickness and color. No two are alike and your dog will enjoy the variety in his chews. Split or center-cut antlers give your dog instant access to the tasty marrow, with elk antlers being the fastest for marrow access.

Humane and sustainable!:

Animals arent harmed for their antlers.  They are shed naturally each season, picked up, cleaned, cut and ready for chewing.

Antlers from

TNC PETS

are the best quality!:

 As antlers for dog chews get more popular, some sellers are offering low quality, small, old, chalky, bulky and thick antlers that is likely to splinter. TNC Pets antlers are premium grade A and fresh whole antler only!

Get Verified Buyers & Suppliers
Avail Free Consultation