详情
Grip PowerTech is a company specializing in golf grips. It is registered in domestic patent and PCT international patent. US (Patent registered US 9,662,552 B2), Japan (Patent registered 6200089), China patent registered (ZL201480043624.X) It is a creative development company that produces and sells Easy Power Grip (Golf Grip). In addition, it has won the 2016 Hi Seoul Excellence Product Brand Award, Sports Dong-A 2016 Consumer Satisfaction Index No.1 Company and Product Grand Prize, and ISO 9001, 14001 International Certificate.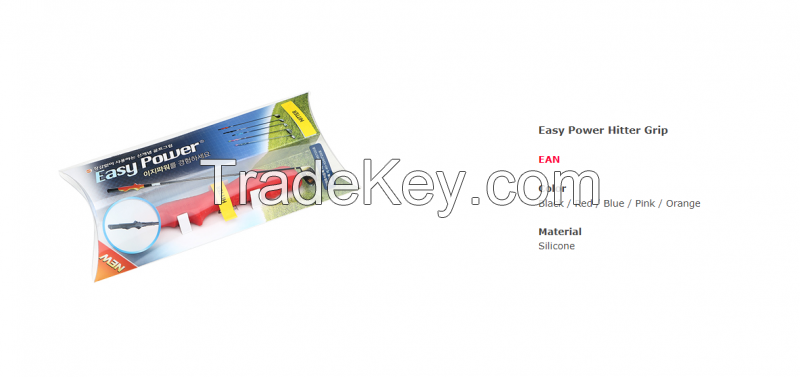 Easy Power Hitter Grip
• Another birth of D-POWER Grip
The existing heater grip or swing-a-grip complements the shortcomings of the existing grip, but it was created to satisfy the psychological deficiency of 1%.
According to the analysis of golfers from advanced countries, professional and amateur leagues are clearly divided, so amateur golfers play golf thinking of health and enjoyment, and most Korean golfers think of other players' consciousness more than foreign golfers because they are competitive. Therefore, this is the result of a grip that can be used freely by anyone for golfers who are hesitant to use Easy Power Grip even though many people want to use Easy Power Grip. One of the proverbs of golf is "other's misfortune is my happiness." Now, when I use Easy Power Grip, I and my partner feel happy at the same time. This is the spirit of golf that Easy Power Grip pursues.

New Concept Golf Grape "Easy Power"
• 3rd Generation New Concept Power Golf Graphic for use without gloves
• Heater grip, D-POWER grip, putter grip
• Easy PowerGrip makes me and my partner feel happy at the same time. This is the spirit of golf that Easy PowerGrip pursues.

From now on, what kind of grip is the power grip "Easy Power" golf grip that can catch two rabbits?
• New concept grip with soft, heat-resistant silicon material that can be used without gloves
• A new concept grip that is mounted on an existing golf grip and zeroed the grip with a five-step orientation to set the
  direction of the golfer.
• New concept grip that allows the golfer to control grip grip strength and improves distance by making accurate grip grips easier
  at all times with parchment settings.
• New concept grip that allows maximum use of centrifugal force when rotating because grip can be held loosely, correcting
  power and swing posture
• New concept grip for balancing both hands and speeding head speed during downswing
• New concept grip extends the replacement cycle by up to three times due to natural wear of the grip.
• New concept grip that can be easily mounted and adjusted by the golfer himself


How to install Easypower


国家:

South Korea

型号:

Easy Power Hitter Grip

离岸价格:

( Negotiable )

(面議)

获取最新报价

位置:

Republic of Korea

最小订单价格:

-

最小订单:

1 Unit

包装细节:

Carton or Box

交货时间:

15 to 30 Days

供应能力:

10000 Unit per Month

付款方式:

T/T, L/C, Other

產品組 :

Sports Item