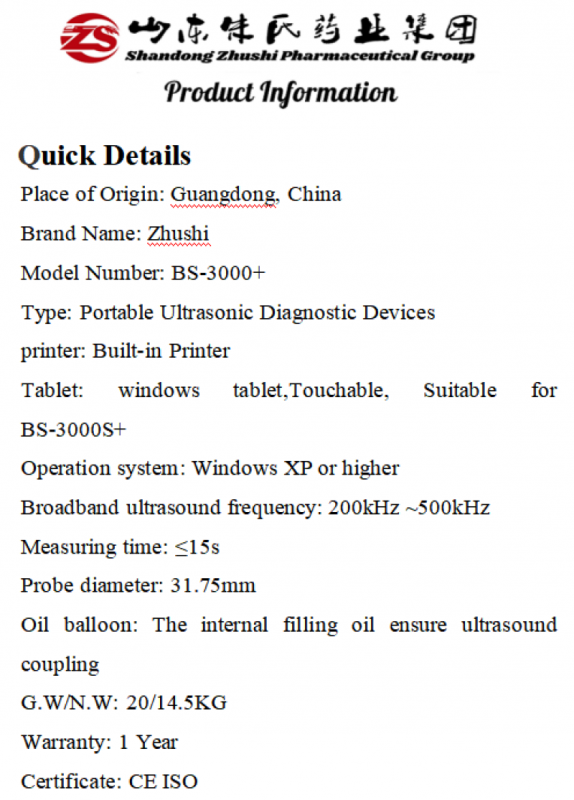 Details
Measurement parameters: QUS
Measurement parts: Calcaneal Bone
Measurement Time: 15 seconds - 25 seconds
Ultrasound Parameter: BUA(Broadband Ultrasound Attention)
SOS(Speed Of Sound)
BMD/BQI(Calcaneal Bone Parameters)
Diagnosing Parameter: SOS, BUA, BQI,BMI, T-Score, Z-Score
Operatingtemperature: 17-36℃
Humidity: 0-80%R.H
Electrical Power Requirement: AC 100-240V ,50/60HZ
Faster
measure quickly and simply, especially suitable fora large number of patients census.
More Accurate
1. Oil balloon Transducer,searching for the best signal automatically.
2. Temperature compensation system ,improving the measurement accuracy.
3. Useglobal bone density database, according to patients race to select database.
4.According to patients foot size ,choosing the different foot plate to reduce errors.
Safer
1. painless, non-trauma and non-radiation, can be measured repeatedly.
2. QUS quantitative ultrasound measuring, especially suitable forpregnant women,children and other special groups.
More Authoritative
Use WHO\'s Osteoporosis Diagnosis Standard.
More convenient
1. BS-3000+ Model Adult/Child calf support can be replaced.
2. Built-in printer can print quickly.
3. Can be connected to tablet, can be used anywhere.