Detail SPEC: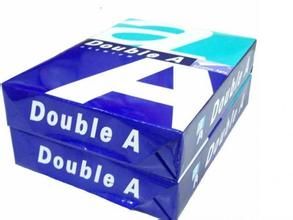 uper Premium quality of multipurpose paper with the highest whiteness and brightness

Features and Benefits :
1. Excellent image clarity & contrast
2. High opacity and thickness
3. High performance for both side printing/copying
4. Optimized smoothness on both surface
5. Uniform toner/ink absorption to provide good print evenness
6. Paper dimensionally stable
7. Guaranteed for trouble-free operation
8. Leave no dust in the copy-machine
9. Nice appearance-white and clean
10. Nice touch-smooth and bulky
11. No see through-print both sides

Suitable for :
1. Photocopy
2. Laser Printing
3. Inkjet Printing
4. Plain fax

Specification:
Substance : 80 gsm
Brightness : 100%
Whiteness : CIE 170
Sheets /ream : 500 sheets
Reams /box : 5
Loading Quantity : 7800 reams / 20 feet FCL
Avaliable Size : A4 (21 x 29.7cm), F4 (21.5x33cm), Quarto (21.5x28cm)
This Paper is produced in a plant awarded the ISO 9001:2000 for Quality Management System, 
ISO 14001 for environmental Management System ISO 9706 for permanency of paper

It is extra white (Super whiteness 170 CIE and Brightness 100) and bulky, adding prestige to your presentations and proposals. This premium paper assures trouble-free performance in your office equipments, protecting you from costly maintenances.
We also have other brand with high quality.
For all serious buyers of all the world, please do not hesitate to send your inquiry. We guarantee you, that our product is the best quality.