Patient Monitor is divided into 4 series: A, M, Q, V series
Features: 
A series: 4 models, A2E, A3, A5, A8, pluggable monitor, all with emergency mobile modular, mainly used in ambulance for emergency transport
M series: 4 models, M800, M8000A, M8500, M9000A, "Bedside Monitor", high cost-effective, mainly used in normal Dept. and inpatient wards
Q series: 3 models, Q3, Q5, Q7, specialist monitor, mainly used in neonatal, normal, inpatient wards, ICU dept.
Part 1:  A series patient monitor
| | | |
| --- | --- | --- |
| No. | Model | Name |
| 1 | A2E | Emergency Transport Monitor |
| 2 | A3 | Ambulance-specific Monitor |
| 3 | A5 | ICU Modular Monitor |
| 4 | A8 | Operational Modular Monitor |
1.  A2E Emergency Transport Monitor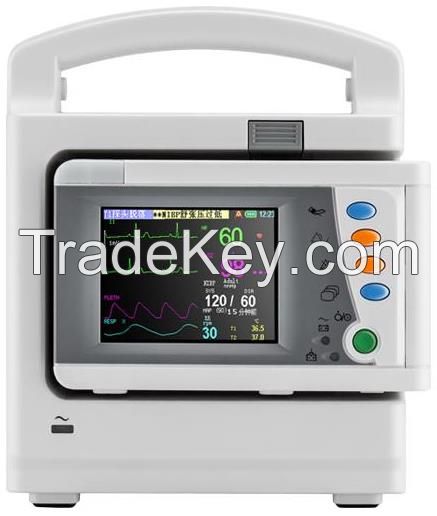 Features: 
  3.5 HD color LCD screen, multi-channel waveform display     Full-screen touch, quick , easy operation     Lightweight & portable, with vehicle power interface, suitable for vehicle monitor, meet the time requirement of 120 ambulance out within 4 minutes  
  With gravity sensing, so medical staff at any angle to observe the patients monitoring data and waveform  
  Multi-parameter monitoring module EMS is the carrier of the monitoring data, compatible with all the A series of monitors, to achieve continuous monitoring  
  Low-power environmental friendly fanless design for medical environment that requires a higher quiet and clean
2.  A3 Ambulance-specific Monitor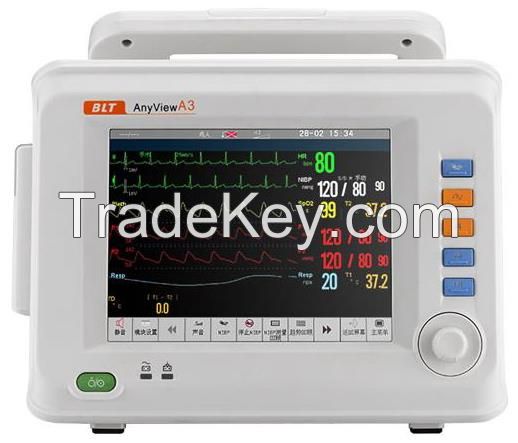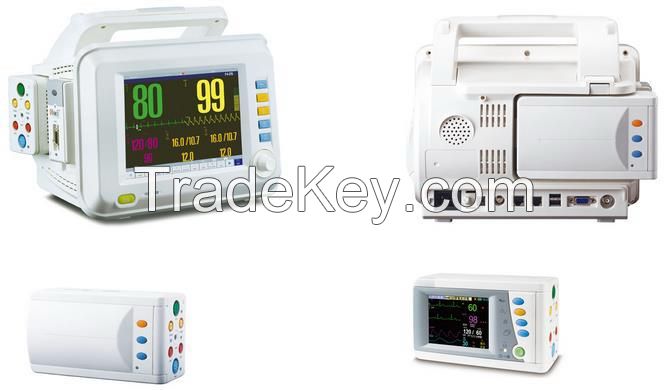 Features:
  Integrated plug-in monitor, using the A series of plug-in modules, plug and play
  8 color LCD screen, multi-channel waveform display
  The module is complete, can be any combination: Support EMS module box (optional 3/5/12 guide ECG, RESP, NIBP, TEMP, IBP, SpO2), CO2, AG, ICG etc.
  Flexible function: s, knobs, touch screen, mouse, keyboard etc. 
  Free combination of multi-screen, multi-interface display 
  Configurable memory card, trend data brownout saved 
  Configurable recorder, record monitoring data and waveforms 
  With a lithium battery, to ensure continuous monitoring 
  Machine design compact, lightweight , easy to carry, accurate & stable performance
3.  A5 ICU Modular Monitor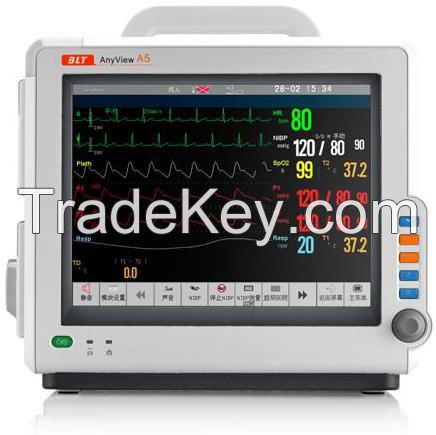 Features:
  12 color LCD screen, multi-channel waveform display 
  Build-in multi-parameter measurement module with a display EMS
  Powerful host, humanized engineering design appearance 
  Exceed 20 kinds of monitoring parameters, any combination of various modules   Real-time upgrade, reduce replacement costs 
  Various methods are offered,  easy to operation 
  Fanless design, dust-free, low power consumption, prolong  service life 
  Knob & operation, optional full-screen touch, compatible with mouse & keyboard 
  Independent of the physiological and technical double warning lights, information tips more timely 
  Build-in removable rechargeable lithium battery, lightweight, energy conservation & environmental pretection 
  Noctilucent s, easy night operation 
  External SD memory card to save the patient history data
4.  A8 Operational Modular  Monitor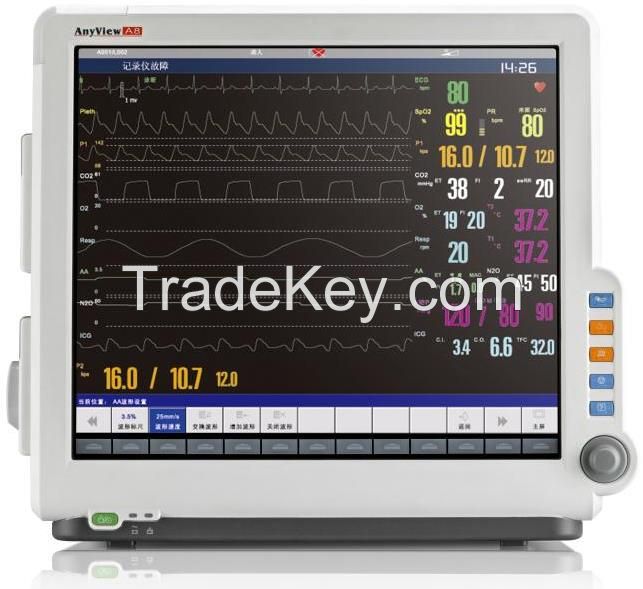 17 large screen anti-glare color LCD screen, full-screen touch operation 
  Build-in multi-parameter measurement module with a display EMS 
  Powerful host, humanized engineering design appearance 
  External independent large-screen display, quick call to life information that needs urgent attention 
  Exceed 20 kinds of monitoring parameters, any combination of various modules
  Real-time upgrade, reduce replacement costs
  Various methods are offered,  easy to operation 
  Independent of the physiological and technical double warning lights, information tips more timely 
  Build-in removable rechargeable lithium battery, lightweight, energy conservation & environmental pretection
  Noctilucent s, easy night operation