● My Canoe! a Box in folding, a Canoe in unfolding!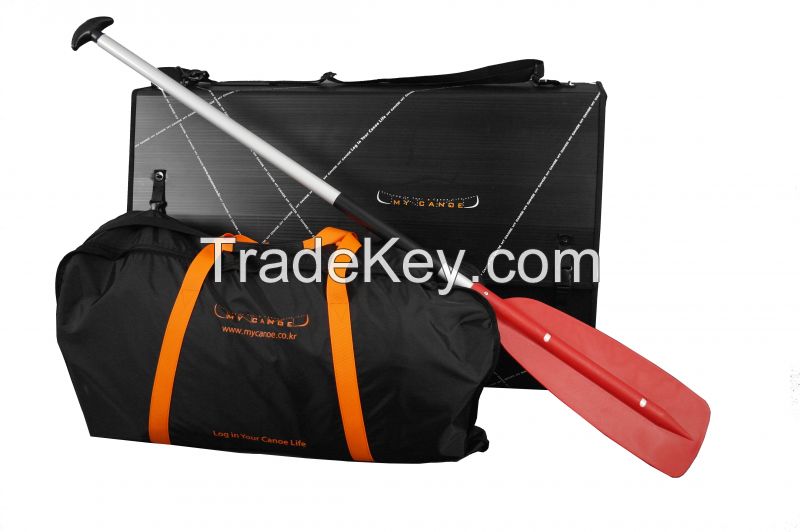 ● Smart package box and a bag  
disassemble in 5 minutes!  
MyCanoe is the worlds first origami canoe.
This 15-foot long beautiful Canadian-style canoe can be folded into a 96cm x 46cm smart box, portable enough to be stashed into a car trunk. Even with a cheap price, this camping canoe can make nature more accessible for outdoor explorers.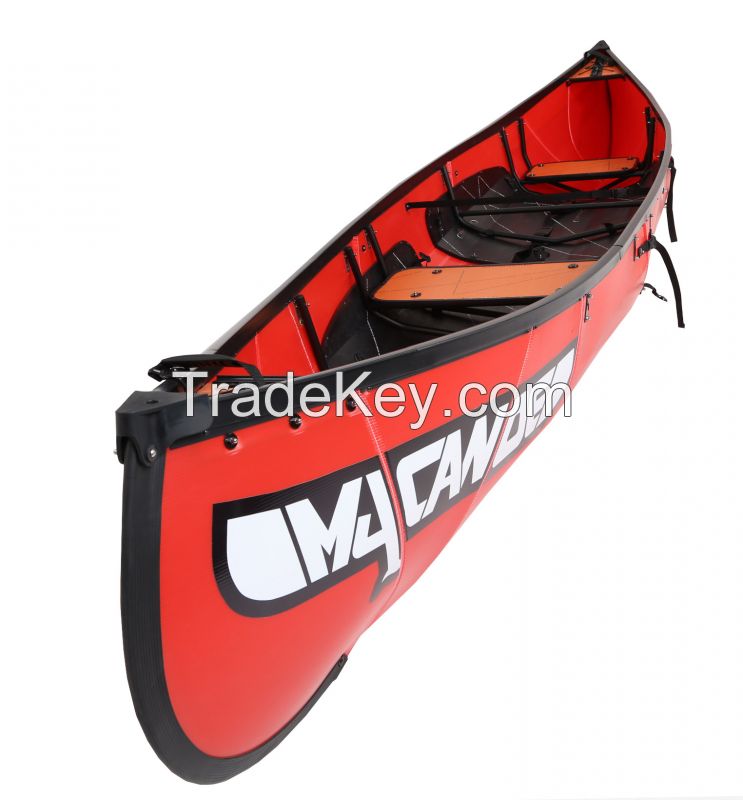 ● Beautiful Canadian-style canoe in unfolding!  
folding up in 10minutes!
15 feet long, two-seater, 26 pounds
 MyCanoe is folded from a polypropylene corrugated cardboard plastic with living hinges on it, which are durable for more than 20,000 times of folding and unfolding. Folding up in 10 minutes, unfolding in 5 minutes, it can be easy and safe for everyone.
● Must-have item for camping goers!   
Features
Touring canoe for paddling and fishing in the rivers and the lakes.
Easy for performance and storage
12 feet long in use, compact box with 96cm x 46cm in folding  
The simple parts can shorten the assembling process into less than 10 minutes.
Available for everyone to paddle 
With its wide flat bottom, it has good linear speed.
High performance per dollar compared to typical fixed or single-folding canoes    
● Specfications
Canoe Style : Candian Canoe Sytle
Material : (5mm) Polypropylene Corrugated Cardboard Plastic
Folding time : 10minutes
Unfolding time : 5 minutes
Connection materials : zipper, buckle, etc
Components : ABS, Stainless Steel bolt, Aluminum 
Size
Subjects  case of folding  in case of unfolding
Length     15'(458cm)            3.2'(96cm)
Width      2.9'(88cm)           9.8"(25cm)
Height     2'(61cm)              2.1"(65cm)
Weight     52.9lbs(24kg)
Loading Capacity
Maximum  529lbs(2adult + 2kids)
Suggested  440lbs(200kg) (2adult + 1kid)   
● Dynamic life! Origami MyCanoe!  
MyCanoe Inc. is the Korean canoe company that has launched the worlds first camping canoe. We are excited to produce more portable and safer leisure boats including kayak, fishing boat and others for water activity. We are trying to be the top portable leisure boat company dedicated to showing the wonder and joy of the great outdoors for everybody.